Press Release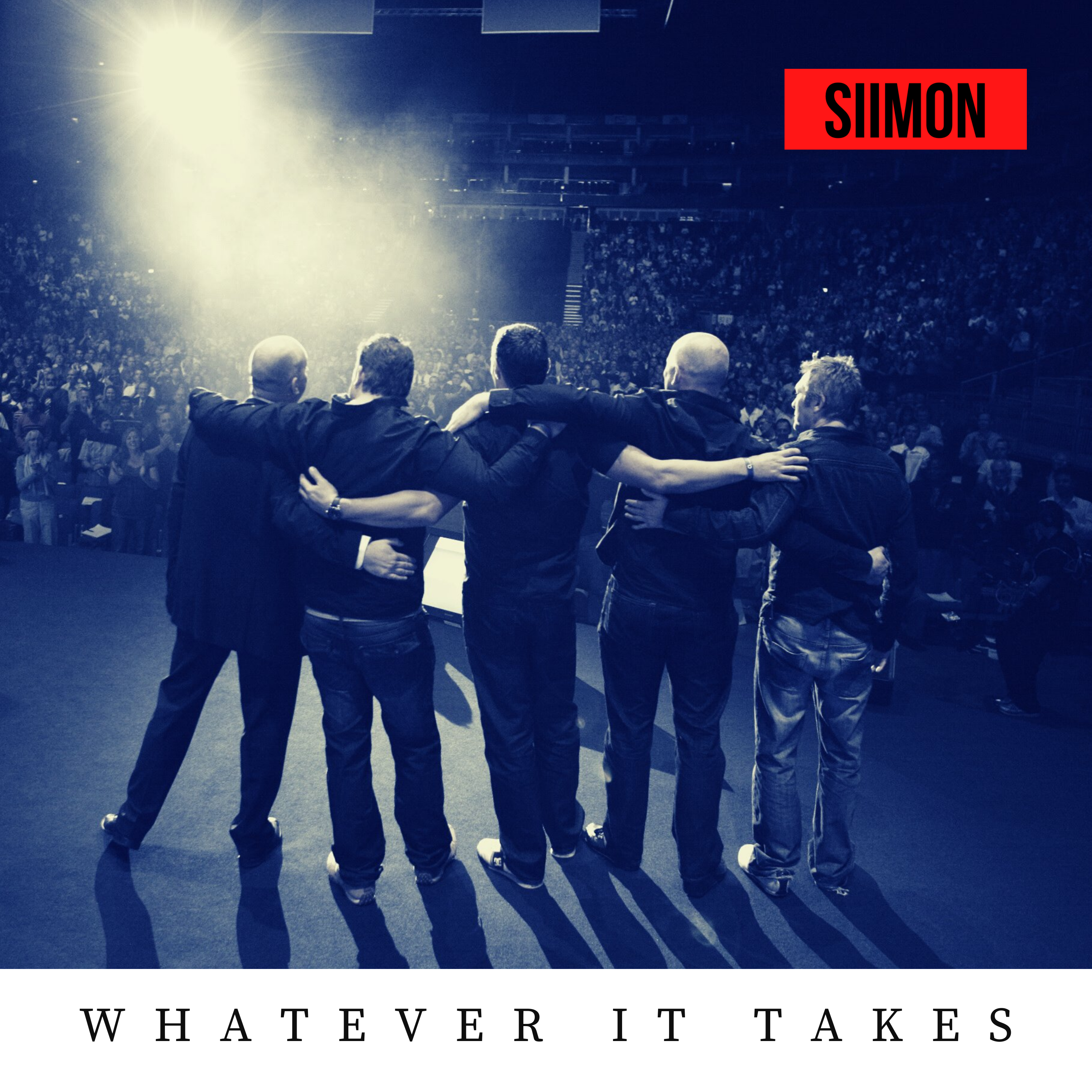 RELEASED 3rd Jan 2022 
Recorded during 2021, 'Whatever It Takes' is SIIMON's 2nd studio album. After the success of SIIMONS 1st album 'Cuts and Bruises' which hit no.2 in the iTunes Singer/Songwriter chart this new album features 10 new original songs including collaborations with A-list co-writers (see below), aspiring writers and solo songs by SIIMON. During 2021 unsigned artist SIIMON achieved 750,000 streams on Spotify and over 4 million views on his YouTube channel from his 1st album Cuts and Bruises and some 'live lounge' style cover versions. 
TRACK BY TRACK 
1 - THE FIRST NIGHT  by SIIMON, Jack Bowden and  Charlie Bone. A song about falling in love on the first date and how things can sometimes not live up to the expectation. 
2 - WHATEVER IT TAKES by SIIMON, Jo Henley and Carole Hay. The title track of the album, simply you sometimes have to do 'Whatever It Takes' to get your goal. (Note the album cover features SIIMON living up to this - performing at the London o2 arena and getting a standing ovation for his FIRST ever public performance of an original song  he'd written) 
3 - HOLLOW by SIIMON, Jez Ashurst and Chloe Reynolds. A song inspired by visiting the wedding of someone you were once engaged to yourself, and the unexpected emotions that can create. 
4 - SERENDIPITY by SIIMON Bill Padley and Stephanie Grace. That sliding doors moment bumping into the 'the one' 
5 - PARALYSED by SIIMON and Grace Hawkings. A song about being stuck in a toxic relationship and fighting to get out, set across a James Bondesque soundscape 
6 - A DIFFERENT WAY by SIIMON. A song about how when a relationship fails sometimes a parent can use alienation as a weapon in vengeance. 
7 - YOU'VE ALREADY WON by SIIMON, Michael Garvin and Marianne Robson. An anthem for any underdog that got further than anyone ever thought they would. 
8 - NOT THE ONE by SIIMON. A song about that difficult time when you realise a relationship is coming to an end and its nobodies fault. 
9 - FOREVER YOUNG by SIIMON, Stephen Jones, Katie Baker and Jeff Franzel. This song actually started as a song called Proud Again, but SIIMON wrote a new lyric for a movie releasing in 2022 with the same title - age is just a number. 
10 - A LITTLE LONGER by SIIMON.  A personal song written after losing a life long friend 
CO-WRITERS 
Co-writers on the album include on HOLLOW - Jez Ashurst (Tom Grennan, Maisie Peters, Little Mix, Leona Lewis), on SERENDIPITY - Bill Padley (Ivor Novello award winner, Atomic Kitten, X Factor), on FOREVER YOUNG - Jeff Franzel(NSYNC, The Temptations, Shawn Colvin), on YOU'VE ALREADY WON - Michael Garvin (25 No.1s including Waiting For Tonight J-Lo and Never Give Up On a Good Thing - George Benson) 
The album  was recorded at SIIMON'S home studio at Meopham Kent and produced by Paddy Byrne (Paloma Faith, Olly Murs, Tom Grennan) 
LISTEN 
SPOTIFY: https://spoti.fi/3eN0G8G 
APPLE MUSIC: https://apple.co/3mQMmAz 
DEEZER: https://bit.ly/3mQavHm 
MORE INFO: 
Website: http://www.siimon.com 
Email: siimon@siimon.com 
YouTube: http://www.bit.ly/siimonyt